Wikipedia Definition of Affiliate Marketing :
Affiliate marketing is a marketing practice in which a business rewards one or more affiliates for each visitor or customer brought about by the affiliate's own marketing efforts.
Well, Here's my simplified definition :
"Affiliate Marketing is promoting other people's (Company's) product and earning a commision in return (If a sale is made)."
It works the same as in the offline world, however the profit and scope is much bigger over the Internet (
Not to Mention that people had exploited this too much though).

So basically what you do as an affiliate is :
You promote other people's (or Company's) Product using a special link with a code only being used by you embedded into it (this is required by advertiser to track the leads referred by you).
If someone buys that product (or in some cases completes a task like signing up or completing a survey) using your link, it gets tracked by the advertiser and you are rewarded a commission (which is a percentage of the sale price but can also be a fixed amount as set by the advertiser).
This way both the advertiser and the publisher is benefited. Advertisers get more sales of their product when many publishers (or affiliates) promote their product and Affiliates in turn generate revenue by promoting the product. Moreover Advertiser pays only when a sale is made so there is no risk of getting non converting visits like in some PPC campaigns.
This is the reason why most of the product creators and Advertisers provides an affiliate program for increasing their product sales.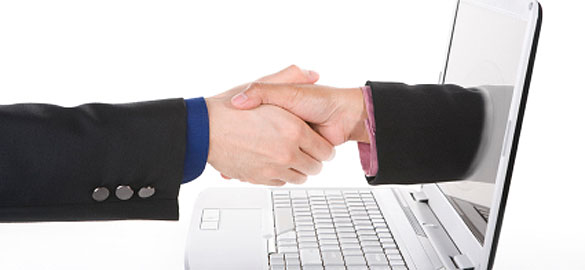 How do I get Started with Affiliate Marketing ?
There are a few things to keep in mind before choosing to get into this business. Firstly, you must find the right Affiliate Product to Promote and secondly you must have an audience that will be interested in that product.
Finding the Right Affiliate Product
This is the most Important Step (literally). If you get wrong here, you will definitely fail in this business. You will have to choose a product which will help your audience. If you have a Weight Loss Blog, then promoting a forex product will be completely useless as it will not get you any sales. Moreover, If you promot a low quality product (lets say,on your blog) , you could be hurting your brand as well.
Remember, To get the best results, always promote a product that you have tried yourself or you must be confident enough of the quality of it.
Below are some of the tips that will help you find a related Affiliate Products :
Browse Affiliate Networks
– The easiest way to get started with promoting products is to search though Affiliate Networks. An Affiliate Network act as an intermediary between publishers (affiliates) and merchant affiliate programs. There are a few affiliate networks that list many affiliate programs. You can use their search option to get related products to your blog's niche. Some of the most famous Affiliate networks are :
ClickBank
(This is my favourite and also, the first affiliate commission that I earned was by promoting a clickbank product) ,
Commission Junction
(aka CJ),
ShareaSale
etc.
Search Google – Other way to find relevant affiliate product that you can promote is by doing a simple google search. Just type : "your keyword + Affiliate Program" (Replace "your Keyword" with your niche like "Weight Loss Affiliate Programs") and you will easily find the appropriate product.
Checkout Online Stores – Almost all of the famous online stores (like Amazon, Ebay) have affiliate programs. You can just sign up for that and then promote any of the stuff that is listed there. Generally the commissions are not big here but as these online stores have a huge range of products, it is not that difficult to get referral sales through them.
Check Your Competition – If you can't find the products by above methods, you can simply have a look at what your competitors (sites in your niche) are promoting and you can start promoting those products.
Now, these were the ways by which you can select a product to promote.
Promoting the Products and Getting Sales
Well, this is the tricky part.
There are a lot of ways by which you can start promoting your selected product, but I have listed the most effective ways below :
Promote using your Blog : If you have a blog with good following, you can simply put a banner of the affiliate product on your sidebar with your affiliate link, or you can write a review post for that product with your affiliate link in the end of the post. This is a very effective way but make sure the products you promote are self tested by you or which you are confident about. This is because, your blog acts as your brand. Promote useless stuff and you will be destroying your brand.
Use Social Networks : As you all know, social networks are growing at a rapid rate and will continue to grow. Facebook, for example, has nearly 600 million users and twitter has 200 million. And that is what you can make use of.
If you use twitter, you can search for tweets in your niche and reply to them with helpful product links (masked with your affiliate code). For Example : You search for your loved niche, lets say "Weight Loss", in Twitter and you find a tweet of a desperate person asking for help to loose his/her weight. Now If you know of a product which you think can really help that person, you simply can reply to that tweet with your affiliate product link.
If you use Facebook, you can create a Facebook page or group in your selected niche and once that Page/Group has got good number of fans/members, you can share the affiliate link of a related product (of course, if it is useful) on your Page's wall. This way you are exposing your affiliate products to targeted people (your Page's fans) and you will easily be able to get sale of that product.
Write and Submit Articles : Article Marketing is the most exploited way of getting affiliate sales and Guess what ? It works every time. You just need to write an article related to your niche and then submit it to various article directories. You are given a chance to add a resource box in your article where you can add hyperlinks of your choice. But the drawback is that most of the reputed Article Directories do not allow the use of affiliate links in your resource box. So, to get the most benefit, you have to first write a review of the selected affiliate product on your blog or elsewhere (where you can add your affiliate links) and then create a related article, for article directories, containing your review post's link in the resource box of that article.
If done effectively, this can get you a good amount of targeted visitors to your blog post where they might end up buying that affiliate product. Few things that you need to keep in mind is that you need to create an effective resource box (or Call to Action Box) paragraph which urges the reader to click the link in that box.
Some of the Famous Article Directories where you can submit your articles are :
Ezinearticle.com
Goarticles.com
ArticleAlley.com
Ideamarketers.com
buzzle.com
Create Videos : Video Marketing helps you get tons of targeted traffic easily (Yes, i said 'easily'). All you have to do is Create a Video Review of the Product you are promoting and upload that video to popular video sharing sites like Youtube. In the description field for that video, Add your affiliate link and that's it. Videos gets viral too easily, All you need to care is about the Title and the Content of the video. Try to create a catchy Title which makes people view your video.
You can work on Keywords and link building to get the video rank higher in search engines but there is an easy way to get traffic to your video. It is by getting your video listed in the "Related Videos" section of Popular Videos in your niche. This can be achieved by adding the same tags to your video which are used by other Popular Video in your Category.
Create Web 2.0 Properties : Now this is fun. You might have heard of Web 2.0 sites like Squidoo, Hubpages etc. These are mostly like article directories but these are community driven, i.e, other users can comment upon or like/dislike your article and accordingly your article is ranked. All you have to do is create an Article around your affiliate product and include your affiliate link in that article. Now you have to work on building backlinks for that article (with your anchored keyword). Web 2.0 sites are loved by Search Engines and it will not be too hard for for you to get it ranked higher for your keyword.
Join Online Forums : This is also a popular form of Marketing Online. First find Forums that are related to your niche and create account there. Next, set up a Signature line there and include your affiliate link in it. The last thing left for you to do is to stay active on these forums and post useful threads there and answer to other posts. If you post useful stuff, People will start trusting you and will browse through your signature links. This way you can easily get affiliate sales.
Build an Email List : Someone rightly said : "The Money is in the list."
Yes, that's right, If you have a large number of E-mail list or subscriber to your website, you can often send them Newsletter with an affiliate link. You must craft a cool email that will get your subscribers click through the links in it. This way you can really get good number of affiliate sales for your product. But Remember, If you start sending them affiliate driven emails everyday or emails promoting unrelated products, Your subscriber will unsubscribe from your list and will left you in the vast ocean alone. So use it Wisely.
Create Niche Sites : You might have heard a lot about Niche Sites/blogs these days. Well, a niche site/blog is that which is made around a very specific keyword or niche which has quite a low competition and could be easily ranked for, in Google, with minimal effort. What you have to do is, Research for a lucrative "Low Competition", "High Traffic" Keyword using some keyword tools and then create a website/blog around that keyword and a few related ones. This type of site might not contain a lot of pages but 5 – 6 content rich (& SEO rich) pages will get you going. Then Start Building backlinks (Off Site SEO) according to the level of competition and in a few days, you would ranking well for those keywords. Now, all you have to do is to place banners or direct affiliate links in your sidebar or Content and see the conversions coming in within a few days.
You could even create a niche site reviewing a product (real life or digital) and that way you will be directly targeting buyers. Make use of keywords like "Product Review", "Buy Product", replace "Product" with the name of the product you are promoting. That's it.
---
Now, it's your turn to try and find what best suites your needs.
Do leave your comments below.
Read More

